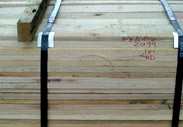 White oak is a traditional wood flooring species with medium to coarse texture and an open grain appearance.

It machines well, nails and screws well although pre-boring is advised. Since it reacts with iron, galvanized nails are recommended. Its adhesive properties are variable, but it stains to a good finish. Can be stained with a wide range of finish tones. The wood dries slowly.
Colour: Sapwood is nearly white. Heartwood is greyish brown.


Texture: Open grain pattern, ring porous and coarse-textured.


Applications: Furniture, flooring, mouldings, millwork, caskets, cabinetry, turnings, mouldings, doors, kitchen cabinets, paneling, barrel staves (tight cooperage) and caskets. Generally available in thicknesses 4/4 through 8/4. 10/4 and thicker available in more limited quantities.


Physical Properties: A hard and heavy wood. Great wear-resistance.


Janka Hardness Rating: 1360
Physical Properties
Specific gravity
Density
(kg/m3)
Hardness
Bending strength
(Mpa)
Stiffness (Mpa)
0,676
750
7130
121
15500
Working Properties
Machinability
Stability
Gluing
Sandability
Nailability
Paintability
Stainability
**
****
**
**
*
**
**

Excellent = **** Very good = *** Good = ** Fair = *
Standard Dimensions Available
FAS-Select
#1 common
#2 common
Width (random)
4'' (100 mm) and up
3'' (76,2 mm) and up
3'' (76,2 mm) and up
Length (random)
6' (1,83 mm) and up
4' (1,22 mm) and up
4' (1,22 m) and up
Thickness
4/4" (25,4 mm); 5/4" (31,75mm); 6/4" (38,1mm); 8/4(50,8mm);
10/4 (63,5mm); 12/4 (76,2mm)
Colour pictures shown: 8' (2,44mm).